4 Wunder - Mama und Papa haben mich ausgetrickst
mit einem Klick auf das Kitten zu den Bildern
Treffer - Bana's 2018.2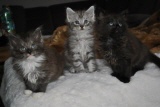 Stammbaum der Kleinen:
IC Dilleo Forest's Bana & CH Deyley's there goes Mister T

Bana und Mister T sind leider noch einmal Eltern.
am 12.10.2018 sind 4 kräftige Kitten trotz Chip und Pille geboren worden.
Bana meinte wohl "Zwei ist kein Wurf".
Ihre Schwangerschaft hat Bana bis zum Kastrationstermin versteckt.
Gott sein dank haben wir vorher noch eben geschallt und den Kastra Termin dann verschoben.
So Welcome to the world "Abgezockt Wurf"

Dieser nun wirklich letzte Wurf von Bana ....
4 Stramme Kitten "Trotz Pille"
| | | | | | |
| --- | --- | --- | --- | --- | --- |
| Kitten | Name | Farbe | Geburtsgewicht | Status | 3 Monate alt |
| | Domino | girl black tabby silver / weiß | 116 | moved | |
| | Bingo | girl black smoke & weiß | 121 | moved | |
| | Black Jack | boy black smoke | 128 | moved | |
| | Chess | boy black tabby silver | 124 | moved | |